Government of Canada Announces Funding to Remove Barriers and Improve Inclusivity in Canadian Sport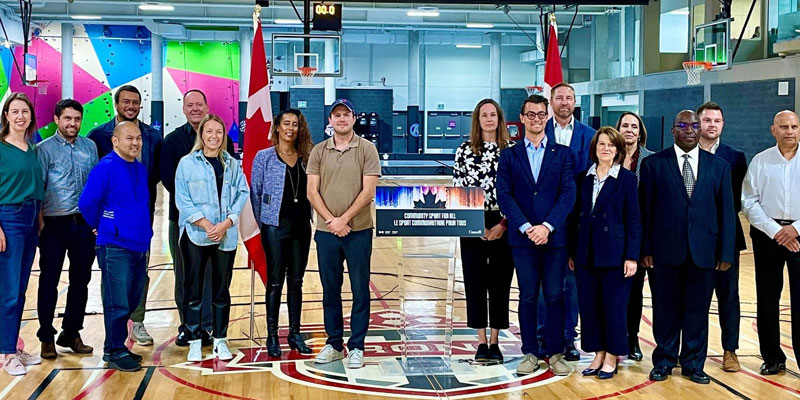 Toronto, Canada - October 6, 2022
The Government of Canada has announced funding to remove barriers and improve inclusivity in sport in Canada! The announcement was made by Parliamentary Secretary to the Minister of Health and to the Minister of Sport, Hon. Adam van Koeverden. "Sport is a catalyst to a healthy and happy lifestyle. Opportunities that lead to healthy bodies and minds should be available for everyone. We are committed to supporting initiatives that will help us realize our goal of a more inclusive Canadian sport system that benefits everyone." he said.
"Today's announcement reinforces our commitment to building stronger and healthier communities. Sport plays an important role in building self-esteem and leadership skills, which allow people to grow and thrive physically, emotionally and socially. It should be accessible to everyone and become the basis for our children, who all deserve the opportunity to participate in sport and physical activity." said Hon. Pascale St-Onge, Minister of Sport and Minister responsible for the Economic Development Agency of Canada for the Regions of Quebec in a message delivered by Hon. Adam van Koeverden.
$4.7 million to 11 national organizations will help organizations support community projects that aim to remove barriers and increase participation in sport for underrepresented groups. #SportCanada $1.8 million in additional funding for Special Olympics Canada.This support will help the organization offer more training, education, and competition resources for Canadians with intellectual disabilities. #ChooseToIncludeGOVCa
Some of the distinguished guests present at the event included Special Olympics Canada Chief Executive Officer Sharon Bollenbach, Physical Health and Education (PHE) Canada Executive Director & CEO Melanie Davis, MLSE Launchpad Partnerships & Engagement Director Lisa Wiele and Commonwealth Sport Canada SportWORKS Program Manager Ryan Pelly.
Kenyan Canadian Association was represented by Board Chair and Sports & Recreation Director Raphael Fernandes OLY and President & Executive Director Ephraim Mwaura.