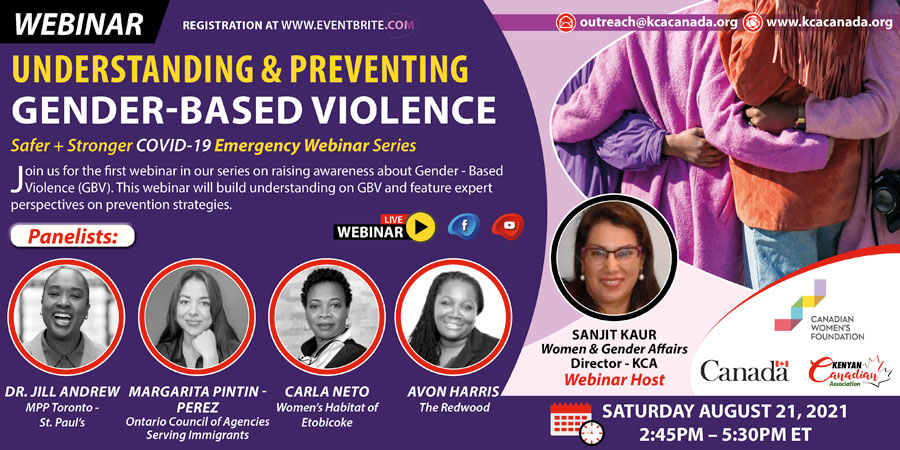 Understanding and Preventing Gender-Based Violence
Toronto, Ontario – August 20, 2021
Kenyan Canadian Association (KCA) is pleased to invite you to our webinar:
UNDERSTANDING & PREVENTING GENDER-BASED VIOLENCE. This virtual event is supported by funding from the Government of Canada through the Canadian Women's Foundation, Safer + Stronger COVID-19 Emergency Grant. 
This will be the first webinar in a series of 5 webinars for the Safer + Stronger COVID-19 Emergency Grant Project. Future webinars will cover:
Survivors & Family Support & Interventions - September 11th , 2021
Legal and Justice System - September 25th , 2021
Gender-based Violence and the Media - October 16th , 2021
Gender Equality & UN Women HeForShe - November 6th , 2021
Join the conversation with our expert panelists as they discuss Gender-Based Violence (GBV) in its many forms, with a focus on understanding, identifying, responding to, and addressing the impacts of GBV in Canada.
Date and Time:
Saturday, August 21, 2021 2:45pm – 5:30pm
Participants Registration:
To participate in the Zoom Webinar please register on Eventbrite
Participants can also access the webinar live stream on Facebook and YouTube
Webinar Summary:
Information, awareness, and preventative measures for GBV.
GBV within and against immigrant and refugee communities in Canada.
Resources and Support Services for those impacted.
Panelists:
DR. JILL ANDREW - MPP for Toronto-St. Paul's
▫ Discussion on the rise of GBV and intimate partner violence during the pandemic and supports needed from the province to end GBV
MARGARITA PINTI-PEREZ - Senior Coordinator, Ontario Council of Agencies Serving Immigrants (OCASI)
▫ Gender-based violence against non-status, refugee, and immigrant women across Canada
CARLA NETO - Community Program Manager, Women's Habitat of Etobicoke
▫ Information on the ever-evolving needs of those impacted by GBV, focus on building effective and innovative response systems
AVON HARRIS - Community Outreach Manager at the Redwood
▫ Gender-based Violence education and support services for victims and survivors
GENESIS BOWEN - Social Service Worker, Kenyan Canadian Association
▫ Overview of Gender-based Violence, Types of GBV Violence, Vulnerable Communities and Women Issues in Canada
Host:
SANJIT KAUR - Women & Gender Affairs Director, Kenyan Canadian Association
For questions, please contact us at This email address is being protected from spambots. You need JavaScript enabled to view it.
Follow us for more on Facebook, YouTube, Instagram, Twitter and Linkedin