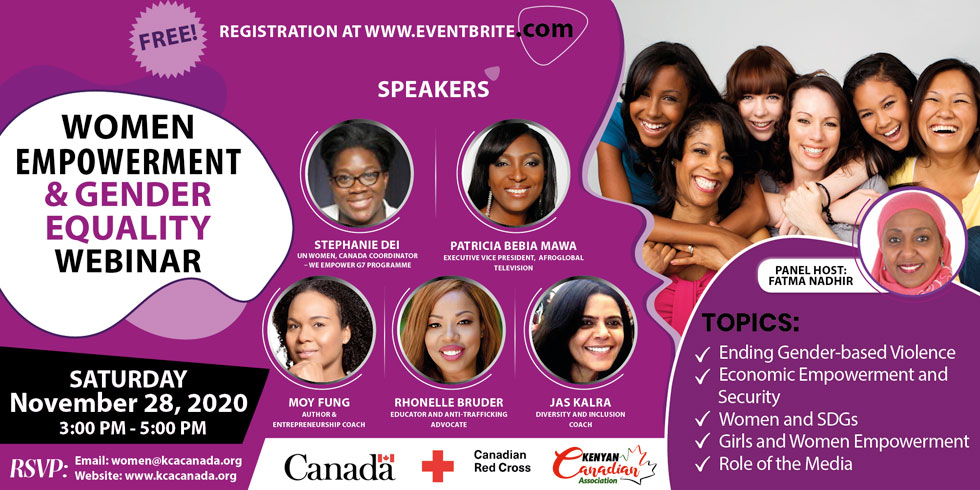 Women Empowerment & Gender Equality Webinar
Objective
The objective of the webinar was to provide attendees with information about how women can cope during the pandemic and what society, including media can do to promote gender equality. The webinar had five expert panelists namely
Summary
The webinar kicked off with a presentation on KCA, its objectives, programs and initiatives by Ephraim Mwaura, the President of KCA. Mwaura also presented an overview and achievements so far under the Canadian Red Cross project which included distribution of grocery cards to 40 beneficiaries from marginalized groups across the greater Toronto area (GTA).
The women and gender affairs director, Sanjit Kaur, provided an overview of the program and the upcoming activities underthe program in 2021.
The first guest speaker was Stephanie Dei, the national coordinator of WE Empower, a programme by UN Women, the European union and international labor organization. She provided an overview of the gender equality and women empowerment work of UN Women. She also noted that domestic violence has rapidly increased due to the COVID-19 pandemic and encouraged participants to champion gender equality in the workplace and in communities.
The second speaker, Patricia Bebia Mawa, the executive Vice President, Afroglobal Television talked about the critical role of media in advancing and advocating for Gender equality and empowerment
She pointed out the power of the media, through its ability to be an agent of socialization and a source of information especially during this COVID-19 pandemic period. She also shared ideas of how the media can advance and advocate for equality through gender balance in the workplace, eliminating gender stereotypes, sensitivity in messaging, and zero tolerance for discrimination, among others.
The third speaker, Moy Fung, an author, and entrepreneurship coach with over15 years of experience working with women entrepreneurs. She noted that the marginalized group of women was among the most affected by the COVID-19 pandemic because of the need to juggle household chores, childcare, and work. She encouraged participants to be self-aware and to pay particular attention to their mental health during this period.
The fourth speaker, Rhonelle Bruder, an anti-trafficking educator spoke about human trafficking; how victims can recover from traumatic effects and how to reduce stigma against victims of human trafficking in the community. She noted that human trafficking is underreported, and most victims are within the marginalized community. She provided some practical advises on how women and girls can protect themselves from fall in prey of perpetrators.
The final speaker, Jas Kalra, a diversity, and inclusion coach, talked about the value of including men in gender equality programs and encouraging them to participate in household chores, which are traditionally seen as roles for women by some communities.
The Panelists:
Stephanie Dei - UN Women, Canada CoordinatorWe Empower G7 Programme
Patrica Bebia Mawa - ExecutiveVice President, Afroglobal Television
Moy Fung - Author & Entrepreneurship Coach
Rhonelle Bruder - Educator and Anti Trafficking Advocate  
Jas Kalra - Diversity and Inclusion Coach